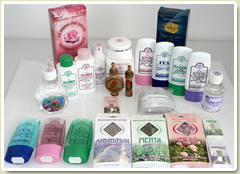 Certificated planting material of oil bearing rose and lavender.
High qualitative planting material from chamomile, clary sage, sage, yellow poppy, dill, fennel, etc.
Project development for essential oil and medicinal plant harvests growing.
Science - technical information ( books, brochures, technological manuals ).
Science - research contracts.
Science - service contracts.
Ready products ( Rose oil, lavender oil and other essential oils; Rose water, lavender alchohol, natural cosmetics products- creams, toilet milk, gels, aftershaves, masks, perfumes etc. )
Possibilities for essential oil production by distillation process.
Analyses in licensed testing laboratories.